Past Golf Pros
Past Golf Pros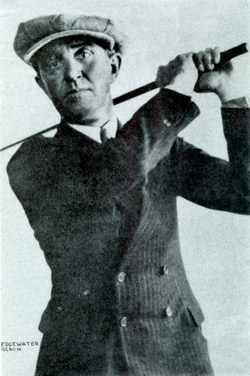 Bryant Ambrose (Amber) Andrews
1925-1926
Amber Andrews was born in Scotland, served in WWI, and came to America with some experience in course design. He was not a tournament player, and at the time that he was hired to work at Medinah, he was giving lessons in person and through radio broadcasts originating at the Edgewater Beach Hotel indoor golf school in Chicago. He probably was at Medinah for itís Grand Opening September 25, 1926. Only Courses #1 and #2 were open at that time. He left Medinah to concentrate on his radio golf instruction program.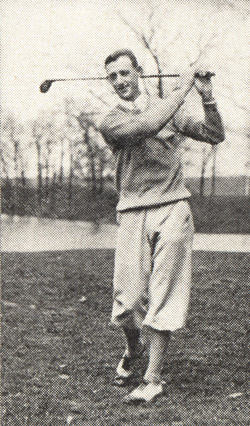 Cyrus (Cy) Anderberg
1927-1928
Cy Anderberg was a scratch player, and taught golf on the tee. During his time as Medinahís Pro, he wrote articles for the Red Fez on how to play golf. He was a Shriner, and decided to resign his position as Head Professional and become a member of Medinah. Anderberg was re-instated as an amateur in 1931, and went on to win the 1931 Acacia Country Clubís Invitational in Chicago, and the 1935 Dunes Invitational in Michigan City, Indiana. Medinahís Course #3 was opened September 23, 1928, during his time as club professional.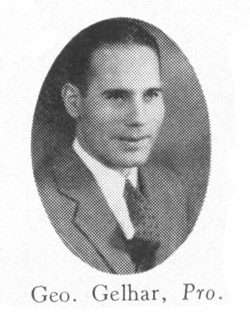 George Gelhar
1929
Before coming to Medinah, George Gelhar worked at the South Haven Country Club in Michigan. During his very short tenure at Medinah, he competed against a field that included Tommy Armour in the 1929 Western Open, in Milwaukee, Wisconsin. Later, when he was with Devon Links, he played in the 1935 Medinah Open.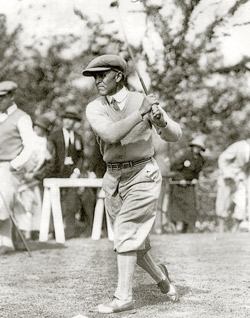 Abelard (Abe) Espinosa
1930-1932
Abe was the eldest and smallest of five brothers who were professional golfers. Generations of their large Hispanic-American family had lived in Monterey, California. Abe and his brother Al came to Chicago in 1924, and they frequently competed against each other as they played the tour. In 1928 Abe won the Western Open, and the Chicago Open. In 1930, both Abe and Al competed in Medinahís first Open. In 1931, Abe won the Texas Open, and the first Illinois State Professional Golf Championship. The same year, he joined several other Chicago area professionals in an exhibition match against the defeated British Ryder Cup team. Medinahís Course #3 Bendelow re-design opened in 1932.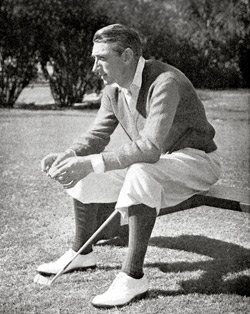 Tommy Armour
1933-1944
Tommy Armour was born in Scotland, and served in WWI; came to America and turned professional in 1924. In 1926, while in England for the British Open, he played with an American team in the "unofficial" first Ryder Cup match. A partial list of his wins includes: 1927 U.S. Open, 1929 Western Open, 1930 P.G.A. Championship, 1931 British Open, and in 1934, the third of his wins of the Canadian Open Championship. In addition to his colorful personality and wry sense of humor, he is remembered as one of Medinahís finest instructors. Armourís many students included Babe Didrikson and Lawson Little. He also shared his golf expertise and philosophy via newspaper articles and a book. During his time at Medinah, the club hosted the 1935 Second Medinah Open, 1937 Chicago Open, and the Western Open in 1939. Armour was elected to the World Golf Hall of Fame in 1976.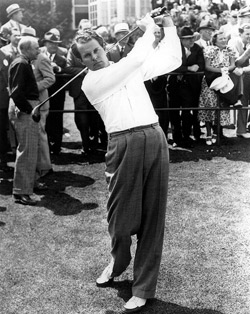 Ralph Guldahl
1945-1948
Ralph Guldahl was born in Texas, and began his professional golf career in 1931. After three P.G.A. tour wins, he stopped for a short time, and resumed golf in 1936. He won the 1936, 1937, and 1938 Western Opens, as well as the 1937 and 1938 U.S. Opens and the 1939 Masters. He was on the 1937 Ryder Cup team. During the 1940ís he rarely competed, and concentrated on a career as club professional. While he was at Medinah, it was noted that his personality and teaching style was very different than that of Tommy Armour. Guldahl competed in the 1946 and 1948 Masters, and the 1948 U.S. Open. During his time at Medinah, the club hosted the 1946 Victory National Open. He was elected to the World Golf Hall of Fame in 1981.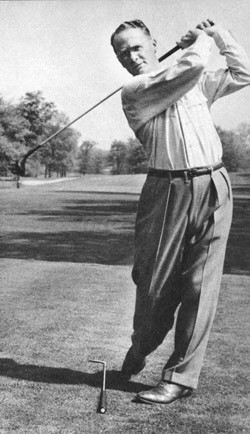 Guy Paulsen
1949-1960
Guy Paulsen was born in Indiana. Before he came to Medinah, he worked at several clubs in California, Georgia, and Indiana. Paulsen was on the teaching staff at Augusta National. He won the Indiana Open twice. He was host professional in 1949 for the 49th U.S. Open at Medinah. While at Medinah, he was the first to win the Illinois P.G.A. Senior Championship in 1957. By then, he was a veteran of many national competitions, and had distinguished himself in four National Opens and twelve National P.G.A. tournaments. Paulsen was an active competitor in many Illinois P.G.A. events while he was at Medinah, and was noted for his ability as a golf instructor and executive.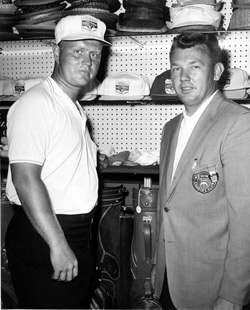 Jack Bell
1961-1967
Bell was born in Ohio. He played the tour and was Head Professional at River Forest Country Club before coming to Medinah. Soon after, he with club member, George Fullerton, won the Illinois State P.G.A. Pro-President event at Butterfield Country Club. He won the Illinois Open Championship in 1959, and also in 1963; dedicating his latter win to his late friend and Medinah member, Jim Ingels. In 1964, Bell was again a winner in the Illinois State P.G.A. Pro-President event paired with Cliff Domin. Bell qualified three times for the National Open (now the U.S. Open). He was Host Professional for the 1962 59th Western Open, and the 1966 63rd Western Open. He was a disciple of Tommy Armourís teaching techniques. After leaving Medinah, he was Head Professional at La Jolla Country Club in California.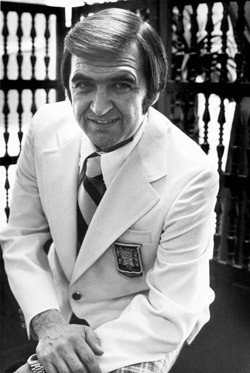 John Marschall
1968-1978
John Marschall was born in Iowa. Marschall was Jack Bellís Assistant Professional for two years. During that time, he played in the 1962 Western Open at Medinah. He was Head Professional at Quincy Country Club for five years before returning to Medinah in that capacity. He played in the Illinois Open many times, and Illinois PGA events like the Pro-Ladies, Pro-President, Pro-Senior and the Pro-Amateur. He qualified locally twice for the U.S. Open. During the 75th U.S. Open in 1975, he was Host Professional. In 1974, he teamed with a then fourteen-year-old Dee Dee Lasker in the Illinois Pro-Junior Championship. This was the first time that a female was entered in that competition.

Bob Hickman
1979-1988
Bob Hickman was born in Greeley, Colorado. Early in his career he won the Sports Illustrated Merchandiser of the Year Award, and later the P.G.A. Colorado Section named him the Golf Professional of the year. Hickman earned the designation as P.G.A. Certified Instructor, and he was the fourteenth member of the P.G.A. to be ranked as a Master Professional. He was a founder of the Colorado Open and initiated many charity golf events. He worked with the Craig Rehabilitation Center in Denver, Colorado, creating and implementing rehabilitation programs that involved golf for paraplegics and handicapped individuals of all ages. Before coming to Medinah, he was Head Professional at Shawnee Country Club, Topeka, Kansas. While at Medinah, he was the winner of the P.G.A. National Merchandiser of the Year Award in 1980 and the P.G.A. Horton Smith Award for Education in 1981. He was Host Professional for the 9TH U.S. Senior Open in 1988, and later worked as a golf professional at Albuquerque Country Club in New Mexico.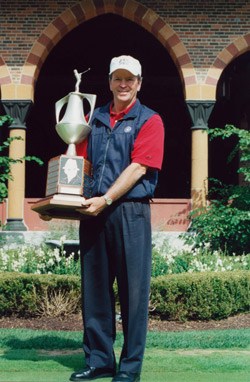 Michael (Mike) Harrigan
1989-2002
Mike Harrigan turned professional in 1971, and was an Assistant Professional at Medinah for John Marschall. He played the tour before concentrating on teaching. Awarded Illinois P.G.A. Teacher of the Year 1995, Player of the Year, and Professional of the Year 1997. He qualified for eight Western Opens, and P.G.A. Senior Championships in 2001, 2002, 2004. He was awarded the P.G.A. Illinois Section Senior Player of the year 2001, 2004, 2005. Harrigan was Host Professional for the 90TH U.S. Open, 1990 and the 81ST P.G.A. Championship 1999. At this time, he has Medinahís longest tenure as Head Professional at Medinah Country Club.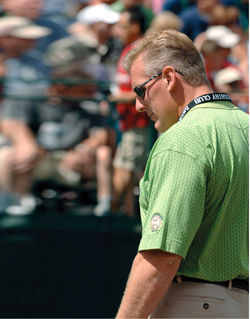 Michael (Mike) Scully
2003-2012
A native Chicagoan, Scully began his sports career in football as an NFL lineman. He made his transition to golf, elected to P.G.A. membership in 1999, and then was professional at Forest Country Club, Fort Meyers, Florida, before coming to Medinah. He was Host Professional in 2006 for the 88th P.G.A. Championship. In 2008, he was named the 54th recipient of the Illinois P.G.A. Professional of the Year, the highest honor bestowed on a P.G.A. Professional. He served on the Executive Committee for the 39th Ryder Cup held at Medinah in September of 2012, as well as on the boards of both the Illinois P.G.A. and the Illinois Golf Foundation in 2012. Mike left Medinah in October of 2012 to continue his career as Director of Golf at Desert Mountain in Scottsdale, Arizona.