One of the most recognized clubhouses in golf
120,000 square feet. A breathtaking sixty-foot rotunda features a hand-painted mosaic ceiling. The grand ballroom boasts hand painted murals rivaling a Florentine cathedral.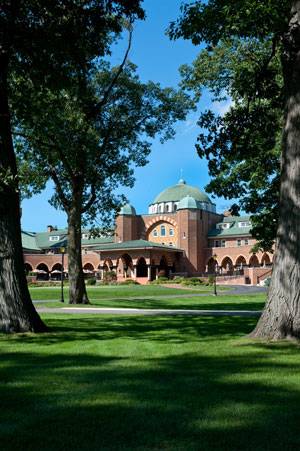 Designed by Richard G. Schmid in 1920's, the Medinah clubhouse continues to be both impressive and welcoming.
Schmid had a flair for blending the classic lines of Byzantine, Oriental, Louis XIV, and Italian architecture, characteristic of Masonic structures. The rotunda and murals were the work of a club member, Gustav A. Brand, a German-born artist. The founding Shriners were familiar with Brandís work on the Chicago Medinah Temple and other historic sites.
The taste, style, and elegance intended by Schmid and Brand have been lovingly preserved. Our members and honored guests enjoy this space - dining, socializing and taking part in family activities year-round. Ranked Sixth of the "18 Most Iconic Clubhouses in Golf" by Golf Digest!
It is truly an iconic structure.