Lodge
Skeet and Trap Shooting
The Lodge is a casual gathering spot where members can shoot skeet or trap, watch the game, enjoy great dinners and theme nights and even take part in a friendly game of cards now and again.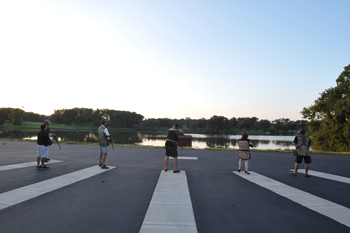 The Lodge is the hub for our Skeet and Trap shooting fields. The facility is operational during the fall and winter months. Casual attire is permitted at the Lodge, where jeans and denim are always allowed. Located near the 5th tee on Course #3 the Lodge overlooks serene Lake Kadijah. Fully equipped to serve food and beverages, the Lodge plays host to a variety of activities throughout the fall and winter:
Skeet and Trap Leagues
Father and Son/Daughter Tournaments
Club Championship
Lodge Theme Dinner Events
Ham/Turkey Shoots
Late Summer Shootouts
Instruction and safety are top priority. Lodge staff and committee chairman are more than happy to assist members in every way.
Learn to Shoot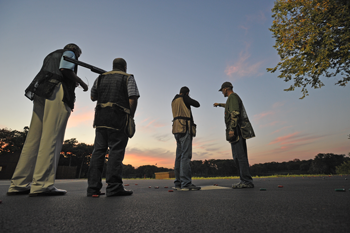 Instructional classes are scheduled to introduce new shooters of all ages. The Lodge also has a shooting practice range where members are afforded the opportunity to practice with Medinah shooting instructors.
Gun Safety
Held at the beginning of each shooting season, gun safety classes provide:
Safety rules overview
Lodge introduction
Skeet & Trap overview (the two shooting sports practiced)
Shooting sport history