History
To build the best country club in North America...
That was the goal for the founders of Medinah Country Club. The storied history of the club centers around this commitment to excellence, a commitment enduring over 90 years.
Club History - A Timeline:
Illustrious Beginnings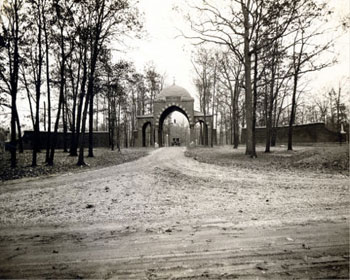 In the early 1920s the club's founders, a group of Shriner's from Chicago's Medinah Temple, sought to create a country retreat
The group was looking for rolling terrain, bountiful trees and an ample water supply
Several parcels of land in an area then known as Meacham, in northern DuPage County were selected to build Chicago's finest private golf courses
Championship Golf
Tom Bendelow, world-renowned Scottish course architect was retained to design the original three golf courses.
Course #1
In September 1925, the Shriners enjoyed their first round of golf at Medinah on Course #1
In 2014 a redesign by famed course architect, Tom Doak was completed
Course #2
In 1926 construction on Course #2 was complete
Courses #1 and #2 have hosted a variety of amateur, professional and Chicago District Golf Association events
Course #3
Originally designed for Medinah's ladies, Course #3 was completed in 1928
Underwent a major redesign in the early 1930's
In 2002 renowned architect, Rees Jones, completed a complete course renovation 2002
Host course for eight major championship tournament events
Iconic Clubhouse
In the mid 1920s, while the courses were under construction, Richard G. Schmid was hired to plan and design the clubhouse
Schmid blended classic lines of Byzantine, Oriental, Louis XIV, and Italian architecture lending to the style and elegance still evident today
Schmidt Brothers Construction Company served as the general contractors for the clubhouse - all three brothers (Otto, August, and Ernest) were Shriners and charter members of Medinah
The rotunda and murals were the work of club member, Gustav A. Brand, a German-born artist. Brand's work was featured on the Chicago Medinah Temple and other historic sites
In 1997 fine art conservators completed a full restoration of the clubhouse, all including all interior frescos, murals and decorative stenciling
National Tournaments
The National Tournaments of the 1930's on the Bendelow redesigned Course No. 3 established the world-renowned reputation of the course and the club
The 1937 Chicago Open at Medinah hosted a field of competitors that included six members of that year's victorious American Ryder Cup team
The club has hosted seven National tournaments
Golf legends including Harry Cooper, Byron Nelson, Gene Sarazen, Jacky Cupit and Billy Casper have played and won National Tournaments at Medinah
The Majors
Course #3 has been the host site for eight major championship tournament events.
BMW Championship 2019
Ryder Cup 2012
PGA Championship 1999, 2006
U. S. Open 1949, 1975, 1990
U.S. Senior Open 1988
Notable championship winners include - Tiger Woods, Hale Irwin, Gary Player, Byron Nelson, Billy Casper, Gene Sarazen
Cherished Members
Originally founded by Shriners for Shriners
Shriner-only membership restriction ended at the end of the 1930's
Medinah was established as a member-governed private club and remains as such today
Membership is by invitation only
Today
Recognized as the best golf course in Chicago and one of the finest private golf clubs in the United States and internationally
Includes a diverse and active membership - on the golf course and beyond
Continues to embody Tradition, Family Values and Championship Golf