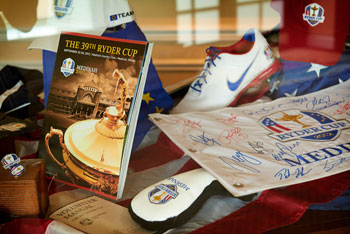 For more than 25 years the rich history that is 'Medinah' has been collected, catalogued and proudly presented in The Heritage Collection. Created by late member Wally Hund in 1989, The Heritage Collection includes a vast array of historical club artifacts dating back to the club's founding in 1924. Items in the collection include:
Historical records
Documents
Photographs
Films
Publications
Curating the collection is The Heritage Committee, a dedicated group of club members committed to not only preserving the history of the club, but sharing it with fellow members, guests and web visitors.
The founders of the club, Shriners from Chicago's Medinah Temple, were keenly focused on building an incredible golf experience for club members and their families. Their search for "land with character" and the creation of the club's three legendary courses is well documented. Some unique and important Heritage Collection golf items include:
Items from major tournaments hosted by Medinah
Original plans for Course No. 3 by initial course architect Thomas Bendelow
Golf clubs designed by Thomas Bendelow
The Heritage Committee always welcomes donations or loans to the collection.