Celebrations of love and friendship. Family memories for a lifetime.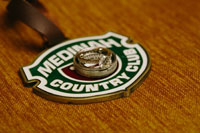 Weddings and Club events here are always unforgettable.
Couples can host the wedding of their dreams here - reciting their vows overlooking the world-renowned Course #3 and enjoying their first dance in the magnificent grand ballroom.
Members and their families take part in a variety of year-round events that include a mix of time-honored club events to colorful and creative special events.
NOTE: Medinah Country Club is a private club. We host events for members of our club. It is required that all non-members have a current club member within their social network who can serve as a sponsor to host an event at our club.