Catering & Culinary Expertise
Platinum Club - Platinum Cuisine
Cuisine at Medinah is exquisite and eclectic. Seasonal specials, international flavors, the classics and time-honored club dishes are just a part of every day dining.
Cuisine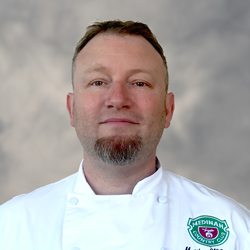 Executive Chef Matthew Gilbert has spent time cooking in Michelin star restaurants in France, spent time in New Orleans studying Creole and Cajun flavors and has journeyed to Spain to walk the storied Pilgrim Trail of Santiago de Compostela. With cooking experiences across 90 countries on all continents and working in kitchens ranging from the Mandarin Oriental's Silks in San Francisco and Navarre in Portland to restaurants and wine bars far afield, Matthew knows his way around a flavorful meal and has been delighting Medinah's membership with his thoughtful and delicious international creations.
Catering
Our catering team assists with planning all types of special occasions and events for members. Personalized service, creative ideas and our experienced culinary team are the perfect combination for successful member events. Members host a myriad of events:
Bridal Showers
Baby Showers
Staff Meetings
Seminars
Corporate Retreats
Dinner Parties (Anniversary, Birthday, Bar mitzvah, Bas mitzvah, Bat mitzvah)
Rehearsal Dinners
We have a variety of spaces to accommodate events. Take a look at all of our Facilities.