Facilities
The clubhouse interior is opulently appointed
Historic features and original architectural style are preserved in our club facilities.
The Ballroom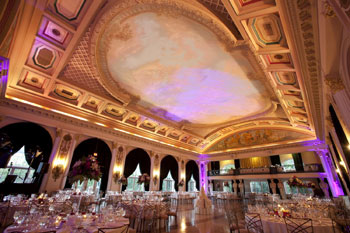 The Ballroom is truly grand. This space boasts:
24' hand painted ceilings and wall appointments
Balconies with intricately detailed wrought iron railings
Beautiful hardwood floors
Access to outdoor veranda seating, with views of the golf course
Ballroom Capacity:
Formal seating up to 250 guests
The Casbah Bar
From the arched ceilings and large fireplace to the intimate scale of the room, it is an architectural experience. The New Member Bar features a cozy fireplace, beautiful views of Medinah's Backyard and Course #2, and a great place to gather for refreshment!
Palm Lounge
The perfect cocktail space.
Arched windows framing expansive views of Courses #1, #2 and the manicured grounds
Well appointed architectural details
Palm Lounge Capacity:
Standing room 200-300. Seating for up to 100.
The Great Room
A great venue to start or finish any occasion.
Hand painted ceiling beams
Original artwork
Leads into the Grand Ballroom
Adjacent to the Rotunda and East Veranda
The Fireside Dining Room
Private dining space for up to 50 guests. West Veranda Access.
Conference Rooms
Members often host colleagues for business and corporate events. Our conference rooms provide a comfortable space to meet, plan and work. We can accommodate small group meetings or large seminars with all the amenities required for productivity - food and beverage, seating, audio visual*.
Conference rooms are equipped with:
6' x 8' projector screen
Large Screen TV
Wi-Fi access
Premium coffee service