Lessons & Clinics
"Golf is deceptively simple and endlessly complicated; it satisfies the soul and frustrates the intellect. It is at the same time rewarding and maddening
– and it is without a doubt the greatest game mankind has ever invented."
-Arnold Palmer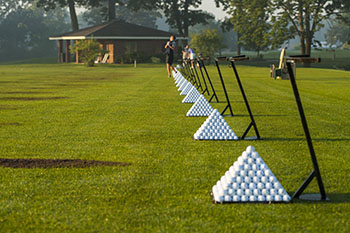 Members are provided top-rate teaching programs throughout the year. Our entire PGA Teaching Professional Staff is dedicated to improving the overall golf experience for members. Video analysis and Trackman Launch Monitor technology is utilized in all instructional programs to provide the most comprehensive instructional experience.
Weekly Group Clinics
Interactive group clinics are held every week and provide a immersive environment for learning. Clinic instruction is tailored to each group and instruction is available for - men, women, families, couples and juniors.
Private Lessons
Individual lessons offer members a comfortable and personalized format to learn the game. Lessons are customized according to the ability level, interest and goals of each student. Our teaching staff works to ensure success and a positive golf experience for years to come.