Golf Shop
The center for all things golf
Our Golf Shop is the hub of all activities.
Itís a great place to shop for all of your clothing and equipment needs.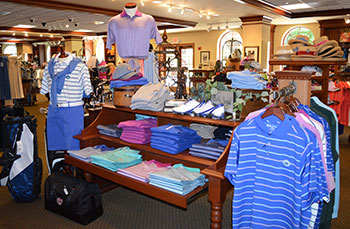 Recognized as one of the Top 100 Golf Shops in America for the past 12 years by the Association of Golf Merchandisers and Golf Digest Magazine, the Medinah Country Club Golf Shop provides a genuinely unique golf shopping experience.
In its 3,000 square foot space, an extensive and diverse selection of apparel, equipment and accessories for men, women and children are always on-hand, with the top brands readily available.
Shopping at Medinah is all-inclusive, from custom orders to flexible shipping options.
The knowledgeable Golf Professional staff is focused on improving every member's game. The Professional staff uses the most current technologies to analyze every aspect of the golf swing to help provide accurate recommendations for equipment purchases.
Locker Rooms
The Men and Women's locker rooms have both shower and steam facilities, and offers shoe service for all types shoes.
Club Storage
The bag room is located in the Golf Shop area and has ample room for proper golf bag and equipment storage. Clubs are cleaned and stored after each round. After each season, your equipment is inspected for any necessary repairs, which are completed upon request.