Top 10 Things To Know About Medinah Country Club
Top 10 Things To Know
About Medinah Country Club
#10
Platinum Clubs ranks Medinah thirty-sixth in the world, twenty-second in America, and third in Illinois!
---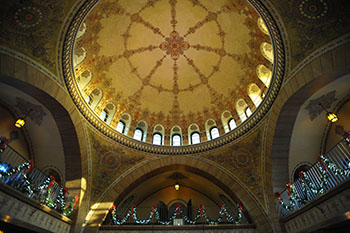 #9
Medinah's historic clubhouse is ranked the sixth most iconic clubhouse in the world!
---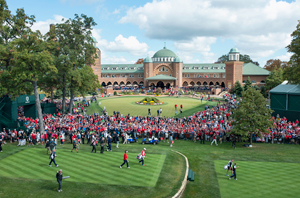 #8
Medinah Country Club is one of only two clubs to have hosted the U.S. Open, PGA Championship, Ryder Cup, U.S. Senior Open and Western Open!
---
#7
Medinah Country Club has five major membership categories including Regular (Golf), Associate (Age 21-39), Social, National, and International.


---
#6
Medinah is the only private country club in Illinois with 54 holes!


---
#5
2017 Golf Digest ranks Course #3 as the third course in Illinois, and Course #1 as thirteenth!


---
#4
Contributing to exceptional dining experiences, Medinah Country Club hosts nearly 100 themed-dining events to enjoy, from elegant (galas, black tie, holidays) to casual (food truck, organic farm to table, on site syrup harvest) all under the direction our four star-trained renowned Chicago Executive Chef Michael Ponzio.
---
#3
Medinah is a great blend of its nearly 100-year heritage (since 1924), coupled with an approximately $20 million recent facility update and improvements!
---
#2
Medinah has extensive year-round amenities including, Golf, and our new all-season Golf Learning Center, new all-season Racquet Center (Platform Tennis & Tennis), major Clubhouse upgrades, Skeet & Trap, Swimming, Fishing, Skating, Camping, Book Club and more…
---
And…
#1
"Everyone wants to go where everybody knows your name." At Medinah Country Club, members raise their families and meet and make lifelong friends, every day!
---