Guest Information
Welcome...
Invited guests are welcomed and encouraged to enjoy the club.
Delighting guests is a cornerstone of our culture.
As a private club, use of the facilities is exclusive to members; However, invited guests are welcomed to enjoy and appreciate the club's amenities.
Prior to arriving, it is recommended that all guests acquaint themselves with our customs and traditions listed below.
Check-In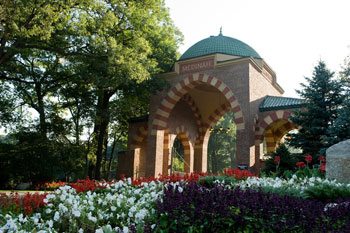 All guests must check-in with our security staff at the gate. Golfers check-in with our helpful outside services team.
Dress Code
Clubhouse & Golf Courses
Apparel
Collared shirts (Ladies must have a collar or sleeves)
Sweaters
Medinah golf shop-style pullovers
Jackets
Slacks
Golf shorts (similar in style to walking and/or Bermuda shorts) of an appropriate and tasteful length
*Not Permitted - Short shorts, cargo shorts or pants, and jeans or denim material of any color
Shoes
All golf shoes shall have non-penetrating spikes
Hats
Required to be worn brim forward
Not allowed above the lower level of the Clubhouse
Tennis & Swimming
Apparel
Proper tennis and swimming attire is required
Cover-ups must be worn at all times outside the pool area
Mobile Devices
Clubhouse & Golf Courses
Use of cellular phones, tablets and other mobile devices is permitted
All devices must NOT ring on property and must be set to silent or vibrate
Use is limited to "pressing situations" ONLY
Outgoing calls must be made in a discreet manner and in remote areas so that others are not affected
Club Dining Areas
Mobile device use is NOT permitted in any club dining area
Smoking
All indoor club facilities are NON-SMOKING
We are excited to see you!
Medinah Country Club
6N001 Medinah Road
Medinah, IL 60157
630-773-1700