Top 10 Things To Know About Medinah Country Club
Top 10 Things To Know
About Medinah Country Club
#10
Platinum Clubs ranks Medinah thirty-fourth in the world, twelveth in America, and first in Illinois!
---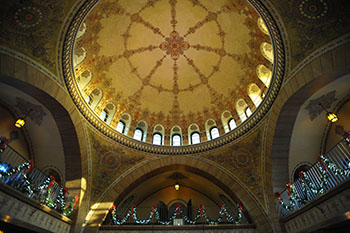 #9
Medinah's historic clubhouse is ranked the sixth most iconic clubhouse in the world!
---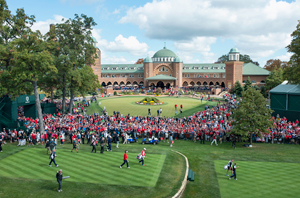 #8
Medinah Country Club is one of only two clubs to have hosted the U.S. Open, PGA Championship, Ryder Cup, U.S. Senior Open and Western Open and in 2019, the penultimate event of the PGA TOUR FedEx Cup Playoff Series - the BMW Championship!
---
#7
Medinah Country Club has five major membership categories including Regular, Associate, Social, National, and International.


---
#6
Medinah is the only private country club in Illinois with 54 holes!


---
#5
2019-2020 Golf Digest ranks Course #3 as the third greatest golf course in Illinois!


---
#4
Contributing to exceptional dining experiences, Medinah Country Club hosts nearly 100 themed-dining events to enjoy, from elegant (galas, black tie, holidays) to casual (food truck, organic farm to table, on site syrup harvest) all under the direction our Executive Chef Matthew Gilbert.
---
#3
Medinah is a great blend of its nearly 100-year heritage (since 1924), coupled with an approximately $20 million recent facility update and improvements!
---
#2
Medinah has extensive year-round amenities including, Golf, and our all-season Golf Learning Center, all-season Racquet Center (Platform Tennis & Tennis), major Clubhouse upgrades, Skeet & Trap, Swimming, Fishing, Skating, Camping, Book Club, Charities and more.
---
And…
#1
"Everyone wants to go where everybody knows your name." At Medinah Country Club, members raise their families and meet and make lifelong friends, every day!
---